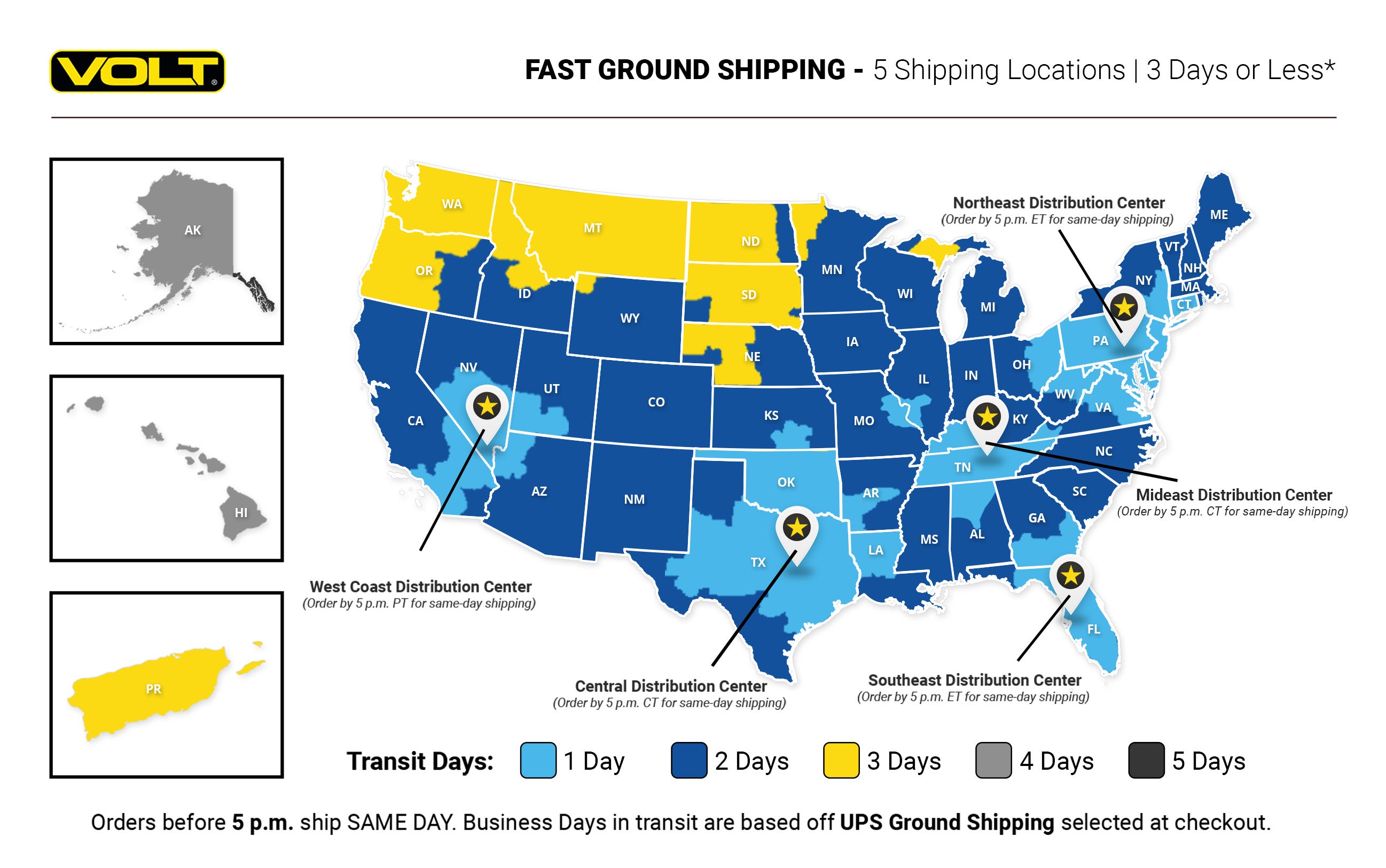 5 SHIPPING LOCATIONS




3 DAYS OR LESS for FREE Ground*
---
Southeast Distribution Center
(Orders placed by 5pm ET ship same day)
Central Distribution Center
(Orders placed by 5pm CT ship same day)
Mid-East Distribution Center
(Orders placed by 5pm CT ship same day)
Northeast Distribution Center
(Orders placed by 5pm ET ship same day)
West Coast Distribution Center
(Orders placed by 5pm PT ship same day, Express orders must be placed by 2pm PT).
Get your orders faster with VOLT®. Most customers will receive their orders in less than 48 hours from purchase! ALL orders placed before 5pm Monday-Friday ship same-day (details above).
MULTIPLE SHIPPING OPTIONS




STANDARD OR EXPEDITED
---
From standard shipping to expedited shipping VOLT® offers services that can deliver an order to any qualifying destination within 24 hours of placing an order. The below chart lists shipping methods offered from VOLT® and what you can expect for delivery.
Continental US (48 Contiguous States)

FREE UPS Ground (See Ground Map)
UPS Next Day Air (Delivery by Noon Next Business Day)
UPS Next Day Air Saver (Delivery by End of Business Day)
UPS 2nd Day Air (Delivery by End of Business Day)

Hawaii & Alaska

UPS Next Day Air (Delivery by Noon)
UPS Next Day Air Saver (Delivery by End of Business Day)
UPS 2nd Day Air (Delivery by End of Business Day)
All available shipping options will be offered to you at checkout.
INTERNATIONAL ORDERS &




SHIPPING
---
No minimum order value is required on orders shipped to Canada. To all other countries outside the U.S., we require $1,000 USD minimum (before shipping charges) on first-time orders and a $500 USD minimum (before shipping charges) on all future orders with an established account.

The recipient of an international shipment is responsible for any import taxes, duties, and any additional fees levied by the destination country. We have no control over these charges and cannot predict what they may be. Customs policies vary widely from country to country. Contact your local customs office for further information. When custom clearance procedures are required it can cause further delays in shipment. Due to high shipping costs/duties. International customers are responsible for shipping on warrantied replacements, returns, and/or exchanges.
*Unforeseen delays such as weather conditions could cause longer delivery times.
---
SHIPPING COSTS
We offer FREE Ground shipping throughout the continental United States (lower 48 states); some product exclusions apply. Expedited shipping methods are also available at an additional cost, as are shipping options outside the continental United States. On these orders, we pass along our high-volume UPS discount to you.
FREE SHIPPING EXCLUSIONS
All Items Under "GROW"
VOLT® Grow FL-1
VOLT® Grow VL-1
All Items Under "SOLAR LIGHTS"
LOCAL PICKUP
Orders placed before 5 p.m. ET may be picked up at our Southeast distribution center in Lutz, FL on Monday - Friday from 8 a.m. - 6 p.m. ET.
RETURNS & EXCHANGES
If there is a discrepancy with your order that is deemed to be caused by VOLT® (e.g. wrong item, quantity or defective), VOLT® will pay for any shipping cost associated with order resolution. Shipping costs associated with the exchange of items accurately delivered by VOLT® are the sole responsibility of the customer. For details on returns and exchanges, please see our Returns Policy Page.