LED Grow Lights That Power Your Business
FL-1 Full-Cycle LED Grow Light
---

This ultra-high-output grow light utilizes LEDs to produce full-spectrum white light that's ideal for growing flowering plants. Its 2000 µmol/s light output matches or exceeds that of traditional 1000W DE HPS Grow Lights. Its low profile allows to be used in vertical grow configurations. The FL-1 is passively cooled by its ladder design. It comes with a built-in dimming control knob and has remote dimming capability. UL Listed with 5-year warranty. Master Control System for LED Grow Lights available separately.
2000 µmol/s PPF
IP65 rated
Higher light output than 1000W DE HPS Lamp
Full-spectrum white light
Built-in dimming control
Includes 120V power cord
Discreet packaging
5-Year WarrantyUL Listed
Learn More About Our Products
---
---
VOLT Grow® was built on VOLT's foundation of industry-leading quality, high value, and exceptional customer service. The in-house engineers at VOLT Grow® are constantly improving and developing new horticulture LED lighting technologies to stay at the industry's forefront.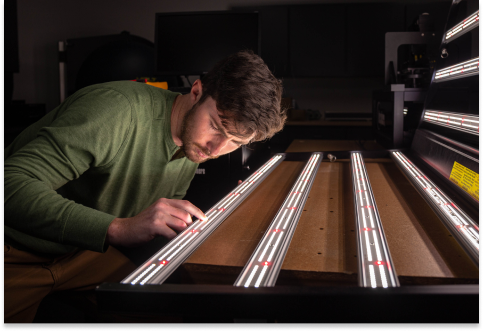 REASONS TO BUY FROM VOLT GROW®
---

VOLT® has developed a world-class product development team of creative engineers and lighting experts, who work on product creation and improvement in our VOLT® Innovation & Photometrics Lab.


Highest Quality - Professional Grade
With in-house engineers and manufacturing control, VOLT Grow® ensures product quality from ideation to production. All products have UL Listings to certify third party trust.


Lowest Prices -
Factory Direct
VOLT Grow® designs, manufactures, and distributes all of our products.. We cut out wholesale distributors and transformed their margins into customer savings.


All orders placed before 5PM (Monday-Friday) are shipped same-day. With our four distribution centers nationwide, VOLT® reaches anywhere in the continental US in 1-3 business days.

We offer a 5-year warranty on all VOLT Grow® products. We have 100% confidence in our quality and performance.
---